Owning a Furniture Rental Franchise
What goes into running a forward-looking furniture rental franchise like Premier Rental-Purchase? For our franchise owners, every day brings new opportunities to develop our brand using a rent to own business plan designed for modern operations. A furniture franchise needs to be built to address today's concerns and deliver the kind of quality care to customers and staff needed to allow our owners to focus on brand growth and expansion. At Premier Rental-Purchase, we value the work we do, and approach it with energy and drive. It's in everything we, each and every day.
Connect with customers
Manage inventory efficiently
Leverage technology to aid the brand
Get key training and support
A brand with the tools to shake up the industry needs to make every day count, and have a clear vision for the furniture store franchise's direction and way of working. And that's what Premier Rental-Purchase works toward, day in and day out. Come with us as we explore a day in the life of the Premier Rental-Purchase furniture rental franchise owner, and discover why we're excited for what's to come!
How is the current furniture rental franchise model connecting with Customers?
Today's furniture rental franchise can be much more than the traditional rental-purchase model of past generations. That starts with the market they serve. In the past, the rental-purchase market was largely a specific customer base who were looking for quality care. Serving that group has helped us create generations of customers — our products often become part of their lives, and can lead to families who return to us whenever they want to upgrade or replace what they've got. Those customers are still part of the way we approach our time at Premier Rental-Purchase, but the modern furniture franchises serve a larger and growing population on a daily basis as well. Many younger Americans prefer spending on something other than permanent possessions. Experiences are the priority for plenty of millennials, and that can make rental-purchase an appealing option for them. Premier Rental-Purchase was created with these customers in mind. We've built our brand to meet their expectations and deliver the kind of quality care they want, whenever they visit us.
Efficiently Manage Inventory
The present-day rental-purchase industry runs on inventory. It's a foundation of the furniture rental franchise business, and can place the brands that have developed effective supply networks in a favorable position for future growth. And rental-purchase inventory management means more than making sure each franchise is fully stocked and has confidence they can get what they need. Flexibility and purchasing clout can be just as crucial to brand growth. That's why Premier Rental-Purchase makes efficient inventory control a central pillar of our furniture rental franchise business model. We've developed a supply system that emphasizes decentralized purchasing. That puts the power in the hands of our franchise owners, allowing them to negotiate for the best prices for each purchase, and letting them stay on top of new product development. It's an owner-centered way of operating that we pride ourselves in at Premier Rental-Purchase, and has helped position us for future brand expansion.
A Furniture Store Franchise Needs to Leverage Technology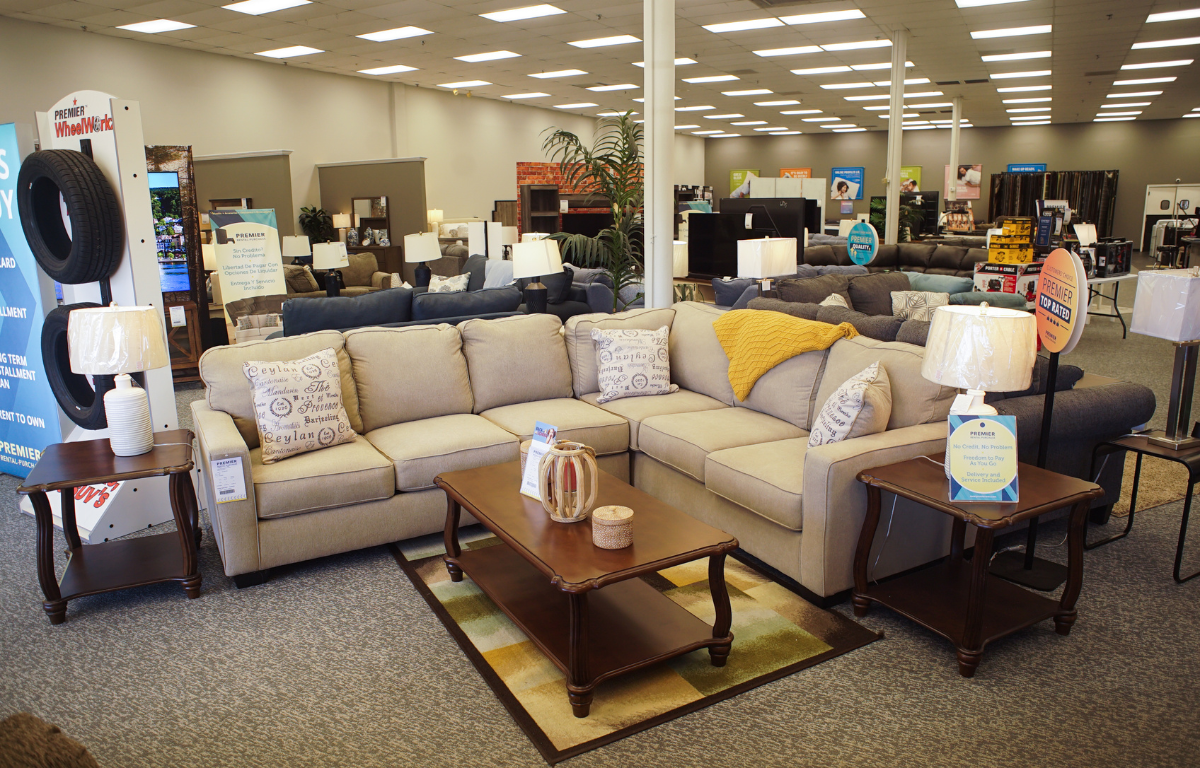 Today, technology is more ever-present and essential to running a franchise than ever. From point-of-sales systems that can adapt and adjust to varied environments to digital storefronts and billing options, there can be technological aids for just about any business. No industry is static. Technological advances occur every day in the rental-purchase business, and the furniture rental franchises that recognize and employ them to support their brand can stay nimble and focused on the future. The world has gone high tech, and customers often prefer to work with brands that incorporate this change into their franchise model. Premier Rental-Purchase understands this, and has built our business around industry-leading technology. We've got a suite of tools designed for the modern day, with online services, marketing, purchasing, and customer care that helps streamline operations. Premier Rental-Purchase makes high tech part of our daily life. It helps us build customer loyalty and the kind of brand designed for tomorrow's business world.
Get Training and Support
Customer care, inventory management, and cutting-edge technological tools are all part of the daily routine at Premier Rental-Purchase. And we back up that modern way of working within our field with top-of-the-line training and development programs. Every day, we stand behind our furniture-rental franchise owners with robust, meaningful training and support. Premier Rental-Purchase owners get our assistance from the moment they start looking into the brand. We help them through the franchising process, aid them in finding and securing the ideal location for their franchise, and provide our expert build team to set up their franchise. And that's just the beginning. We're there with pre-opening training for owners and staff, and have a training and development center dedicated to making sure every team member gets access to targeted training and our monthly seminars. Our support is just as present from day one — we've got our owners' backs, and are ready to step in and lend our assistance in any situation, whenever we're called upon.
Owning a Furniture Rental Franchise with Premier Rental-Purchase
At Premier Rental-Purchase, we look forward to every day we get to serve our customers and grow the brand. We've got an expanding customer base we care for with dedication and superior service. And we back that up with owner support, belief in technological solutions, and an approach to inventory control that helps empower our owners. At Premier Rental Purchase, we believe in the future of the brand and the industry. We're getting ready to move into new territories, and we're looking for potential owners to join us. Want to get more information? Contact us today, and learn how Premier Rental-Purchase is preparing to shake up the business.